To Subscribe please click here
Moonstone Monitor - 13 October 2016
| | |
| --- | --- |
| | Paul Kruger Author/Editor |
Self-respect is the cornerstone of all virtue – John Herschel
Distributed to 46 830 subscribers.

To advertise with us
click here
From the Crow's Nest
How millennials are shaking things up - The 2016 world insurance report*
By Florence de Vries
"Hi @VelocityInsurance. I've had it with @TheBestInsuranceCompany. I want to buy a comprehensive insurance package for my car from you. DM me for details."

This tweet is not atypical of what you're likely to find on your Twitter timeline on any given day. It is an illustration of how today's generation of customers use all sorts of platforms, including Twitter, Facebook and LinkedIn to switch service providers as and when it suits them. If they're not happy, they simply move on. And moving on really needn't be an arduous process either. It's a far cry from the days of doing your due diligence by calling your broker to discuss the pros and cons of taking your hard-earned money elsewhere.

A 'new' type of consumer has started making their mark on the global insurance industry, according to the 2016 World Insurance Report. This report is based on the short-term insurance industry's largest Voice of the Customer Survey – more than 15 500 respondents in 30 countries (including South Africa) - to present a comprehensive picture of the motivations, habits, preferences and behaviours of a critical customer segment – Generation Y, also known as the Millennial generation.

Millennials can typically be described as the generation born in the 1980s and 1990s who are familiar with digital technology. This generation of people constitutes the current and immediate future potential buyers of insurance and they have started making their mark on the global insurance industry, threatening to disrupt the way insurers interact with customers and destabilizing traditional engines of profitability.

A key finding from the study was that, while global customer experience of insurance has improved, Millennials proved harder to please. This generation of people also preferred to interact with their insurer nearly twice as much as the generation before them (who were likely to have used a broker for most interactions) pointing to another interesting phenomenon: if customers have more channels to talk to insurers on, they may be using it to highlight difficulties, bad experiences or complaints more than anything else. This assertion is supported by a 2015 survey conducted by the UK-based Institute of Customer Service which showed that customers are using social media to complain about companies eight times more than in 2014.

A further illustration of how Millennials prefer to interact in their world is the connectedness of everything – signalled by the rise of smart ecosystems (your home appliances are all connected), wearables (smart watches) and driverless cars – also known as the Internet of Things (IoT).

The findings in the World Insurance Report assert that insurers and customers display differences in how quickly they expect connected technologies to be adopted. For example, the study found that customers anticipate that they will adopt driverless cars in greater numbers than insurers expect, which is hardly a surprise if the adoption of uber as a mode of transport over the past five years is anything to go by. Of course, driverless cars pose a variation of different risks and considerations for insurers and governments respectively and the debate has only just begun.

So how can today's insurers respond to the Millennial generation? Firstly, take the time to really understand what they want – they are talking to you all the time. And if they're not talking to your business, you may want to consider finding ways to talk to them first.

From the rise of technology stems a myriad of opportunities for insurance firms: Customers' lives are becoming more mobile and therefore traditional ownership patterns are changing. The liability aspect of insurance will certainly change with the introduction of driverless cars, and so too, the way insurance products are underwritten.

Recognise that most interactions with your client (or potential client), including the underwriting process and buying of the product, will have to be tailored to individual circumstances and preferences.

On-demand insurance business Trov did just that in May this year.

Click here for more information on how to market your business to Millennials and Generation X.

Click here to download the World Insurance Report

Florence de Vries is a communications manager in the short-term insurance industry.
Today's 50-year olds are often at risk of inadequate retirement provision
Modern 50-year olds need to review their retirement provision more regularly if they want to ensure they have an adequate pension for the post-work lifestyle they desire. This generation is increasingly vulnerable to changes in expenditure which may have a serious detrimental impact on their long-term savings.

Martin Wagenaar, wealth management consultant at leading financial advisory business GTC, believes this is due to societal and economic changes that tend to affect people in the 50-year old range more acutely than others. "In our experience, the problem is that most people have not changed their retirement provision and savings strategy sufficiently to adjust for material changes to their expenses."

Click here to read the full article.
Your Practice Made Perfect
Application for Liquidation of Saxum Insurance
On 12 October 2016, the Registrar for Short-term Insurance launched an urgent application in the Johannesburg High Court to place SaXum Insurance Limited (SaXum) under final liquidation.

The application is scheduled to be heard by the Johannesburg High Court on Thursday, 20 October 2016.

The Registrar took this action because SaXum is insolvent, and he is satisfied that it is in the interests of SaXum's policyholders that the company be placed under liquidation. Saxum's insolvency resulted from underwriting losses due to a significant increase in claims, combined with impairments to the value of certain of SaXum's assets.

The Registrar's decision to launch the application follows an intensive process of monitoring SaXum's financial position and engaging with its shareholders to find a solution to the financial soundness problems. The Registrar prohibited SaXum from carrying on any new short-term insurance business from 8 September 2016. Clear deadlines were set, by which the insurer needed to be recapitalised. The shareholders of SaXum failed to recapitalise the business within these deadlines.

The Registrar is satisfied that policyholders' interests will be best served by liquidating the insurer in order to prevent the further erosion of SaXum's assets and to ensure that creditors are treated equally and the claims of some are not preferred over others.

As SaXum is insolvent, it is no longer able to pay policyholder claims or repay collateral amounts. SaXum's unpaid claims and collateral will be considered by the liquidator as part of the liquidation process, should the application be granted. Policyholder queries can be directed to:

Ms Farzana Badat, Head: Insurance Compliance Department.

T: 012 428 8121

E-mail: FSB.INSSaxumQueries@fsb.co.za
Levy Reminder
By now you should have received invoices for the FSB levy and one for the FAIS Ombud.

If you have not, it may be that your contact details at the FSB are incorrect. Remember that you are obliged to notify the Regulator of any changes within 15 days.

Should you not be able to pay the levies by 31 October 2016, you may make arrangements with the FSB.

Please address all levy related enquiries to Faislevies@fsb.co.za.
Get your NCA Card Online
The National Credit Act (NCA) Course from Moonstone Business School of Excellence is intended for:

Intermediaries in the Motor industry who are, or want to become Finance and Insurance brokers (F&I).

Providers of personal loans, HP agreements, credit cards and revolving credit.

No classroom attendance is required. Training takes place via distance or on-line learning. This means that you do not have to wait for an examination opportunity. The final assessment is conducted online in the comfort of your own office or home.

The course is open to anyone. There are no admission requirements.

Successful candidates qualify for a NCA card, which is a legal requirement for most of the above industry players.

Email Abigail or call her on 021 883 8000 for more information on the NCA course, or visit the relevant NCA page on our website.

For more information on other industry-specific qualifications and courses, visit the Moonstone Business School of Excellence website.
Moonstone Rugby Championship Superbru Pool
Getwine, South Africa's premier online Wine Portal, sponsors the Moonstone Rugby Championship Superbru Pool. Getwine allows you to buy superb South African wine online at more than reasonable prices and have it delivered to your door.

Last week's yellow cap winner was Eddie "Spagetti" Sourer, but we are still trying to trace him. Eddie, laat van jou hoor asseblief.

The overall winner of this year's pool was Andrew Codd (picture below). Those guys who came so near should not despair - Andrew is also an actuary, which provided him with an extra arrow in his quiver, despite the difficulty of making accurate predictions of score differences. Andrew ascribes his success to careful research, experience and a bit of luck. Well done, Andrew.

When I delivered his wine on Tuesday, he asked me not to name his employer, as he was concerned that the SA rugby bosses may approach him to address their shortcomings, which also happens to be experience, accuracy and luck.

Baie dankie vir almal se deelname, of jy nou eerste of laaste geëindig het.

Die laaste strooi wat my moed geknak het, is toe hulle Maandag die loting vir volgende jaar publiseer. Ek sal nog 'n tydjie nodig hê om die Bokke se nederlaag te verwerk.

One quip after the match helped to make the pain slightly more bearable:

Aaron Smith is the first scrumhalf in history to be penalised for putting it in straight.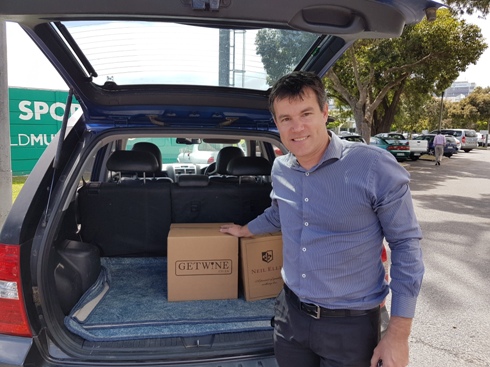 Regulatory Examinations
2016 Schedules Updated
The Moonstone RE schedules containing dates and venues, have just been updated. Please click on the link below for full details.
Regulatory Exam Preparation Material
Enquiries addressed to our RE call centre reveal that many candidates underestimate the importance of proper preparation for this professional exam.

Assure success by using the correct preparation material:

Our website also contains a vast amount of information to assist learners in preparing for the exams, including Tips on writing the Regulatory Exams.


Contact details

Email enquiries should be addressed to faisexam@moonstoneinfo.co.za. You can phone us on 021 883 8000 - select option 2 to speak to one of our consultants.
Careers Platform
Are you hiring? Advertise your position on Moonstone's Career Platform
| | |
| --- | --- |
| • | The Moonstone website - www.moonstone.co.za - enjoys an average of 15 000 visits and approximately 39 000 page views per month. |
| • | Moonstone boasts an exclusive newsletter mailing list of over 46000 dedicated financial decision makers who receive 2 newsletters per week. |
| • | Our audience is relevant and industry specific: individual and corporate advisors and brokers in the following financial sectors: Investment, Risk, Healthcare, Banking, Retirement, and Insurance. |
In Lighter Wyn
Every dog has its day
As a butcher is shooing a dog from his shop, he sees £10 and a note in his mouth, reading, "8 lamb chops, please."

Amazed, he takes the money, puts a bag of chops in the dog's mouth and quickly closes the shop.

He follows the dog and watches him wait for a green light, look both ways and trot across the road to a bus stop. The dog then checks the timetable and sits on the bench.

When a bus arrives, he walks around to the front, looks at the number, then boards the bus.

The butcher follows, dumbstruck. As the bus travels out into the suburbs, the dog takes in the scenery.

After a while, he stands on his back paws, pushes the "stop" bell and gets off. The butcher follows.

The dog runs up to a house, drops his bag on the steps and barks repeatedly. No answer.

He goes back down the path, takes a big run and throws himself, 'whap', against the door. He does this over and over again. Still no answer.

So he jumps on a wall, walks around the garden, barks repeatedly at a window, jumps off, and waits at the front door.

Eventually, a small guy opens it and starts cursing and shouting at the dog.

The butcher runs up screaming at the guy: "What the hell are you doing? Stop screaming at the dog. He's a genius!"

The owner responds, "Genius, my backside. It's the second time this week he's forgotten his key!"



Distributed to 46 830 subscribers
Tel: +27 21 883 8000 | Fax: +27 21 883 8005
info@moonstoneinfo.com
www.moonstone.co.za

P.O. Box 12662, Die Boord, Stellenbosch, 7613, Republic of South Africa
Disclaimer: Services and products advertised by external product suppliers in this newsletter are paid for by the respective suppliers. Moonstone does not endorse any opinions, conclusions, data, products, services or other information contained in this e-mail which is unrelated to the official business of Moonstone and furthermore accepts no liability in respect of the unauthorised use of its e-mail facility or the sending of e-mail communications for other than strictly business purposes.

The complete disclaimer can be accessed here.
©2015 Moonstone. All rights reserved.